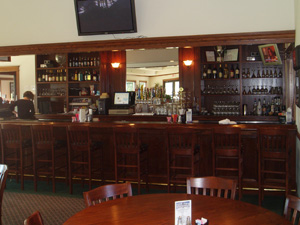 Built in 2006, Cannon's 5,400 sq. foot clubhouse offers a full-service restaurant and bar, seating 84 comfortably and up to 150 people for banquets. The fireplace is a cozy spot on a chilly evening.
The outdoor patio has seating for up to 32 for BBQ's or 'dining al fresco' and overlooks the ninth green and first tee.
From inside, the view looking out is spectacular! Large windows allow you to enjoy the vista without swatting at mosquitoes!
Our new facility features a menu with delicious appetizers, sandwiches, grilled items, pasta dishes, and daily specials. Dine with us from 11 am to 8 pm. Feel free to stop by any evening for a meal and beverage and see why we're so proud of our beautiful facility.